I bacome a judge in 1995. I am also an international judge. I would
like to show some nice and interesting moments.
20.09.2020
NDS, Wawrzykowizna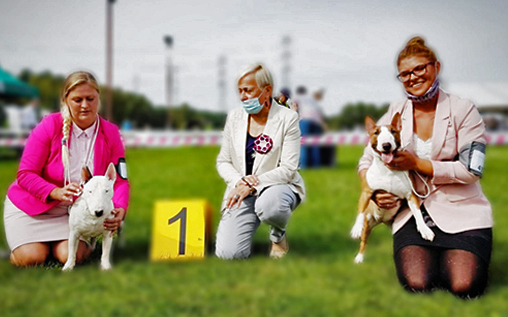 12.09.2020
IDS, Ostrava, Brno
07.02.2019 - 09.02.2020
Italy Arezzo - Tri CACIB and Spaniel Club Show

International exhibitions - Arezzo "Toskania Winner"

International exhibitions - Arezzo "Toskania Winner"

International exhibitions - Arezzo "Toskania Winner"

International exhibitions - Arezzo "Toskania Winner"
30.11.2019 - 01.12.2019
Czech Republic, Prague - Duo CACIB

CORDELIA Tarakim CACIB BOB
22.09.2019
NDS Ryga, Latvia
Club Show gr. VIII FCI

BOB i BOS Eng.Cocker-Spaniel
21.09.2019
NDS Ryga, Latvia

BOB andi BOS Cavalier King Charles Spaniel
08.09.2019
NDS Inowrocław

BIS Junior bitch Spinone Italiano
29.06.2019
All Breed Championship Show, Kilkenny
. . .
02.06.2019
National Dog Show, Ustka
25.05.2019
Club Show'19 in Moletai
20.04.2019
ECS Clubshow, Krasnojarsk
- "Koker Krasnoyara"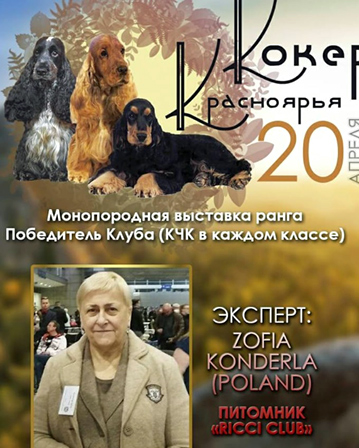 TALIZMAN NA SZCZĘŚCIE


TAIRENA'S Attractive And Beauty


TAIRENA'S APPLE PIE 1


ROSA VETROU ACADEMIA DEW BELLEZA
best bitch


HELUIN OUTER SPACE
best golden


Int.Ch. FLUK STAR'BORI CLASSIC STYLE
best black dog

EXCLUSIVE SUNFOREST SOUL
BOB

Beach Boy of LA VIE MAGNIFIQUE


Winners of Club

31.03.2019
ECS Clubshow, Moscow'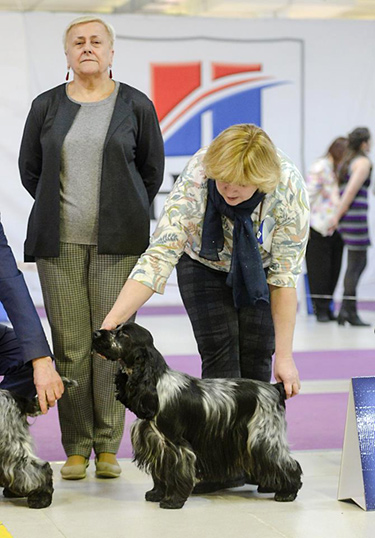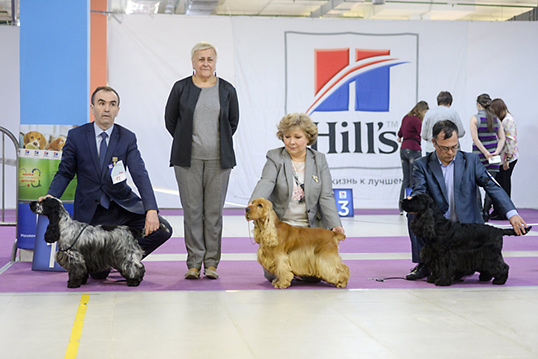 31.03.2019
Klz CAC-Chrkf'
03.03.2019
IDS (CACIB-FCI, Ch RKF) ''Baltic-Show -2019''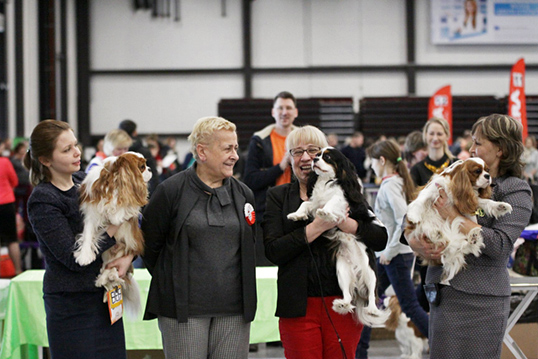 17.11.2018
INTERNATIONAL DOG SHOW (Crufts 2019)
Poznań,
18.11.2018
INTERNATIONAL DOG SHOW (Polish Winner 2018)
Poznań,
. . .
02.09.2017-03.09.2017 Spaniels specialty show in Odense, Denmark
Two days of judging high-class dogs. We were judging alternately with Judge Mr. Philip John
from India and our opinions largely coincided with what was reflected in the results. There was also time to visit the charming city of Odense, the city where Hans Christian Andersen was born and lived. The writer's home is now a museum that we also visited, which I immortalized in the pictures. The exhibition took place in an extremely friendly atmosphere, and this is mainly
thanks to Mrs. Helle Dan, the President of the Club.
10.06.2017-11.06.2017 Dog Show Group VIII and IX in Turku, Finland
There was a time not only for judging the exhibition, but also for visiting the beautiful
city of Turku.

08.04.2017 Cocker-Spaniel Club Show in ST.Petersburg - Russia
On the pictures: Gallinagos Gues Who - BOB, Manaca's Blincin Heck - BOS

18.03.2017-19.03.2017 International Dog Show - Malmo in Sweden
On the picture: Perchwater Like A Perfect Dream - BOB (on the right side)
Occi's Reverie - BOS (on the left side)

14.01.2017-15.01.2017 Duo - CACIB Nitra in Slovakia
18-19.06.2016 Dog Show in Brno, The Czech Republic
I judged group III FCI and Group IX FCI.
In the picture below BIS.

04-05.06.2016 Dog Show in Neumunster IDS, Germany
I judged Group VIII FCI and I chose the winners of Group VIII.
In the picture below winner of Group VIII English cocker-spaniel HARADWATER Mr. Bojangles.

21.08.2015 American Cocker-Spaniel Club Show in Bratislava
I had the pleasure to judge a well organized club show in Slovakia.

Club winner bitch QUENNIE APPLE Fly Mystery - BOB

Club winner dog WARREN BEATTY Fly Mystery - BOS

09.08.2015 National Dog Show in Toruń

01-02.04.2015 International Dog Show in Zakopane

11-12.07.2015 International Dog Show in Warszawa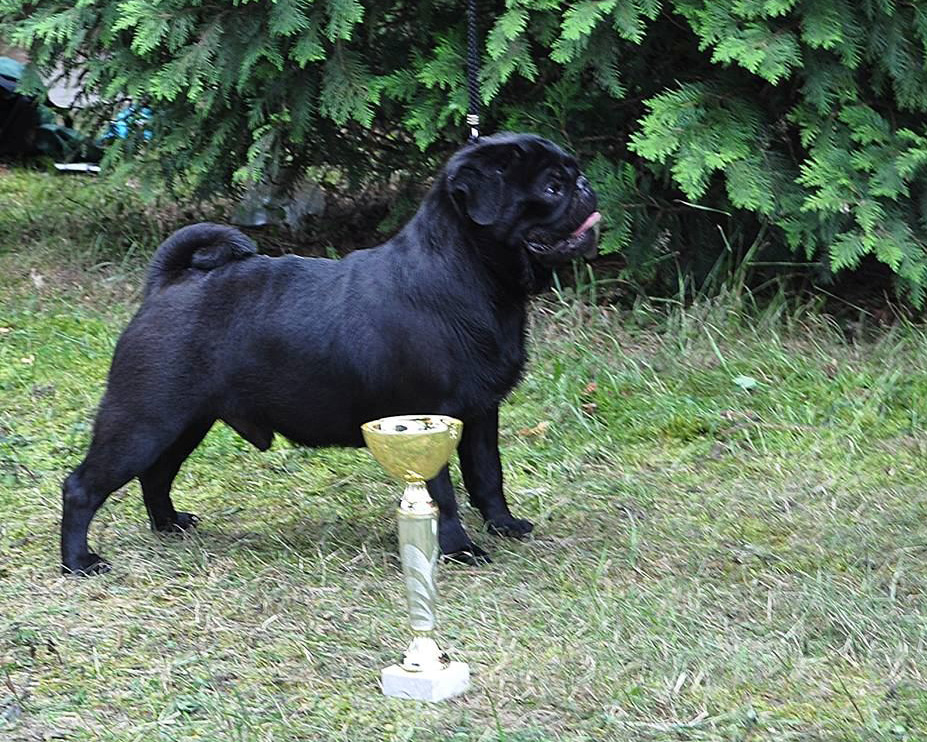 21.06.2015 National Dog Show in Gdynia

23-24.05.2015 International Dog Show in Czech Republic - Nord Bohemia Canis - Litomerice
I had the pleasure to judge my favourite breed: English Cocker-Spaniel.I present the winners:
Best of breed CAC CACIB BOB - black female WIRGIE SANT TULIP
BOS CAC CACIB - black male JACK DANIEL Z VEJMINKU BOJ Best junior - black female URSULA Z VEJMINKU
17.05.2015 National Dog Show in Ustka

2.05.2015 International Dog Show in Łódz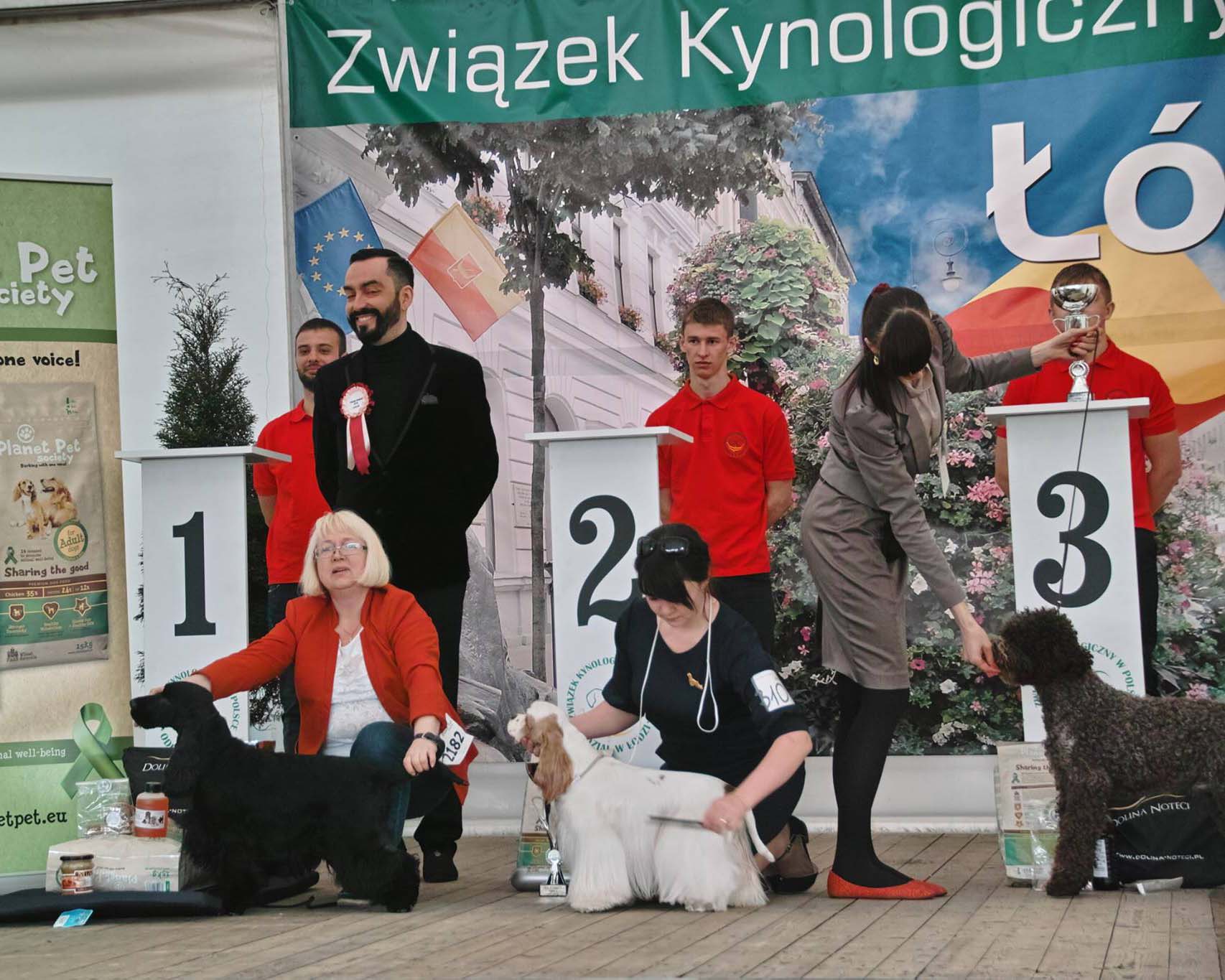 The winner of Group VIII - INT.CH.VIGORUS RORY GALLAHER
Best of breed BOB CWC, CACIB - INT.CH. VIGORUS RORY GALLAHER ResCACIB PL.CH.TANGO Z Nadmorskiej Stanicy
19.04.2015 National Dog Show in Inowrocław

18.04.2015 National Dog Show in Grudziądz

14-15.04.2015 National Dog Show in Włocławek
One of my first judging of FCI group III. For the first time I judged Yorkshire
Terrier.
Beautiful female MERCEDES Baccarat, which I gave BOB.
4-5.04.2015 International Dog Show in Rimini, Italy
DUO-CACIB, my first judging in Italy. Well-organized show,
great organizers, comfortable atmosphere. Not many dogs in DUO-CACIB,
but the ones that came represented a really high level. I judged
my favorite breed of dog English cocker-spaniel. I gave BOB and BIS to a beautiful male
FRANCINI'S DAY BY DAY.
Choosing a Group VIII, first place Francini's DAY BY DAY.
7-8.02.2015 International Dog Show DUO-CACIB in Brno in the Czech Republic
Actually, two International Dog Shows on a big scale. Great
organization - of which our neighbours Czechs are known. Meeting with friends and
the opportunity to judge a nice group of dogs.
While waiting for BIS.
Best of Breed Welsh Springer Spaniel.
17-18.01.2015 Specialistic Dog Show in Vaimastrere in Estonia
Actually, two shows of FCI groups VIII and IX. Very well organized shows,
nice atmosphere in a small circle. Decent rate of dogs. This is a specialty of
the Estonian Kennel Club.
10-11.01.2015 International Dog Show in Kajaani in Finland
Very interesting experience, because it is traditionally dog show that opens the season in Finland. Kajaani, which lies in the north of Finland, welcomed me with temperature
- 20 degrees Celsius. The show was housed in a huge tent in the shape of an igloo. Inside
the tent the temperature was around 0 degrees Celsius. For the Finns it's nothing special.
There arrived more than three thousand dogs with their owners. The level of the show was
very high. I was very pleased to judge dogs present there.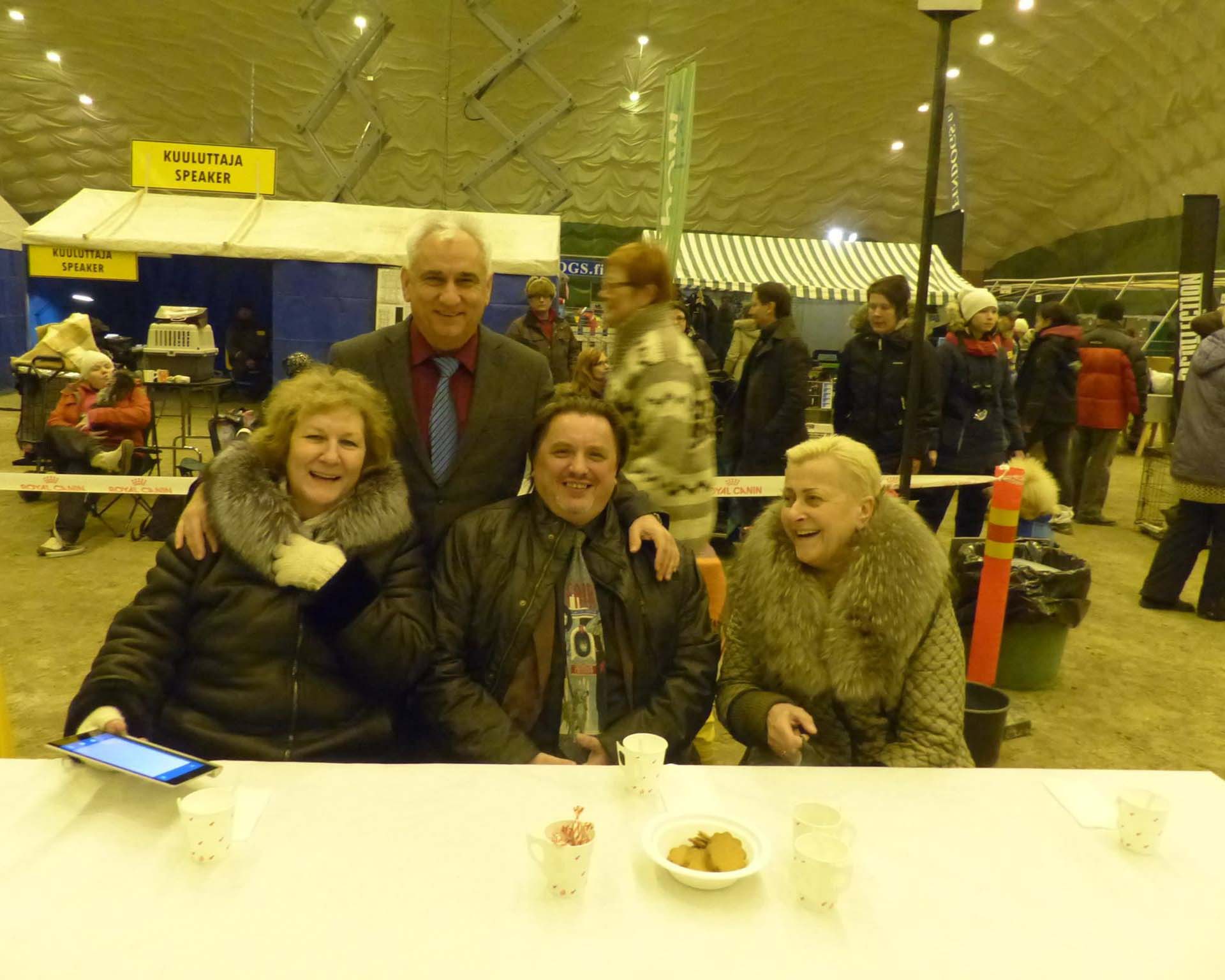 I am in the company of colleagues judges, we are all looking forward to the BIS.
My choice FCI Group VIII - a beautiful Irish Water Spaniel female Penny
CurlyCo Show Me the Sun. She won the group and took the 3rd place at the BIS.
16-17.08.2014 International Dog Show in Ludwigshafen, Germany
Beautifully organized show. A beautiful stake of dogs was presented in the ring. I judged my favorite breed - spaniels, including English Cocker-Spaniel. I also had a nice meeting with friends judges.
The winner BOS - beautiful black dog SERBIAN AFFAIR OF LUNA'S DYNASTY.
The winner BOB - beautiful black female LOVE STORY VOM ODENWALD.
25.11.2012 Jagdspaniel Klub Iserlohn
17.03.2012 Club Show in Vechelde - Germany


18.09.2011 Spaniels specialty show in Germany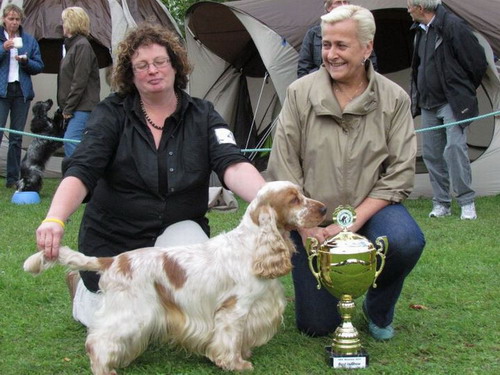 Tvaaker, Sweden 15-16 07 2011
BOB SE CH Backhills New Design ,BOS SE CH Allert's Corona




Siegen 2010. Excellent organization and a great atmosphere helped to withstand the
terrible heat that accompanied that day, and happily finish the event.



Valmiera (Łotwa / Latvia) 20-21 02.2010



Grudziądz 2010



EUROAZJA - Moskwa 2010

EUROAZJA - Moskwa 2010



Finlandia Kangasniemi 2010




Styczeń 2008 - Wystawa Krajowa w Kownie na Litwie.
Wspaniale zorganizowana wystawa. Tak jak to robią na Litwie to doskonały wzór
do naśladowania. Obsługa ringowa profesjonalna pozwalająca sędziemu skupić się
tylko na swojej pracy. Także wystawcy tworzący atmosferę, która powoduje,
że z radością co roku przyjmuję zaproszenia od litewskich przyjaciół.

January 2008 - National show in Kaunas, Lithuania. Excellent organizations,
as always in Lithuania. The ring asistance as always profesional, which gives the opportunity
to the judge to focuse only on his work. Also excellent atmospher from the exhibitors makes that
every year I accept invitations from lithuanian friends.




Marzec 2008 -Wystawa Międzynarodowa w Angers we Francji.
Serdeczna atmosfera i wspaniali wystawcy. Coż organizacja nie tej klasy co na Litwie.
Czułam się trochę bardziej jak "u siebie" pod tym względem.
Za to sędziowałam to co lubię najbardziej i na dodatek psy które przyjechały
naprawdę cieszyły moje oczy.




Czerwiec 2008 -Wystawa Krajowa w Kaliszu Czasem wydawałoby się impreza lokalna jak ta wystawa, ma niespodziewanie bardzo daleki oddźwięk.
Przemiły organizator i na dodatek przepiękne nasze polskie miasto KALISZ



...........Sopot CACIB 2008

....Sopot CACIB 2008





Klubowa Wystawa Spanieli - Eschwege 30.05.2009 Wystawa ta obejmowała rasy spanieli
poza Angielskimi cocker-spanielami i Amerykańskimi cocker-spanielami.
Wspaniale zorganizowana w uroczym miasteczku Eschwege,
przez ludzi którzy pokazali mi że można zrobić z niewielkiej imprezy
ważne kynologiczne wydarzenie i nadać mu właściwą rangę.
Świetni organizatorzy, zdyscyplinowani i mili wystawcy oraz
przede wszystkim naprawdę ładne psy.


Wystawa Klubowa i Specjalistyczna IX grupy FCI w Estoni w Tartu
w dniach 20 i 21.06.09
Ten niewielki kraj zaimponował mi poziomem prezentowanych psów i organizacji wystawy. Wspaniali ludzie, prześliczny kurort Tartu, a na jego obrzeżach w uroczym zakątku
profesjonalnie zorganizowana wystawa.
Zakopane 2009